Retirement per Dr. Kenneth T. Kosche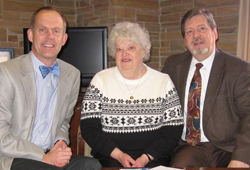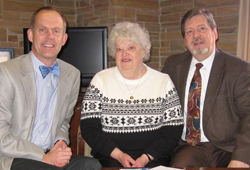 Endowment Signing, April 2009
Dr. Kosche, as you probably know, taught in Concordia's music department for over 30 years. He was also the Director for the Kammerchor, and it is possible you or your children sang for Dr. Kosche. He is also well known for the national and international Kammerchor trips that he spearheaded and planned. You may even have been blessed to experience a Kammerchor concert at Concordia, in your congregation, or your church might have been blessed by the music written by Dr. Kosche.

Since his retirement from Concordia, Dr. Kosche has not "let any grass grow under his feet." This is a pun for more than one reason: Ken says he is busier now than he was when he is working at Concordia; gardening and working in his yard have become his favorite hobbies. His days are blessed with opportunities to play organ for weekly worship at Mt. Calvary in Milwaukee, as well as other guest appearances. He continues to serve his home congregation, St. John Lutheran Church in Glendale Wisconsin, as the Chair of the Call Committee, but his love of music, and compositing of it, is the art that fills a good portion of his time.

During his retirement, Dr. Kosche has published numerous new pieces published through ______________ and ____________ publishing houses, and he has authored special music for Concordia. Five years ago Ken wrote "Jesus, Once You Dwelt Among Us" for the 25th anniversary of the nursing program, and he played this piece on January 27, 2012 when the sophomore nursing students were dedicated in the Chapel of Christ Triumphant. The 2012-2013 school year marks the 30th year of the nursing program and Dr. Kosche has been asked to again be part of these festivities. I personally have a signed copy of Dr. Kosche's Christmas song "Three Gifts."

Most importantly, retirement has given Ken and Rosemary the opportunity to visit their son Tom, and their daughter Anne and their families. Almost two years ago, Tom and his wife, Ruth, gave Ken and Rosemary their first grandchild, Abigail Joy. Pictures of the Kosche family have been shared via the Internet. Ken is well known for his Facebook posts, and pictures of family and friends during their periodic trips.

Ken continues to nurture his relationships with Concordia alumni, parents, and friends through Facebook. One of Ken's favorite Bible passages is from 2 Corinthians 5:7, "We walk in faith and not by sight." Ken and Rosemary's lives have been wonderful witnesses of their walk in faith. Prior to retiring Ken met with me to discuss his dream of starting an endowment to provide yearly student scholarships. In April of 2009, the Kenneth and Rosemary Kosche Choral Music Scholarship Fund was established. This endowment assists LCMS students who have "an obvious heart for the work of The Church and a love for singing." For more information on the Kosche Endowment or endowments in general, go to the Concordia web site, www.cuw.edu or give me a call.

Dr. Kenneth T. Kosche is living his retirement dream, and then some. If you are on Facebook look him up. You will enjoy his pictures and posts, I sure do!